Another PCB 🙂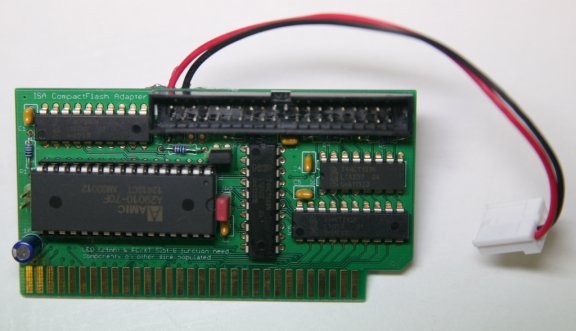 I was contacted recently by the owner of a Sinclair PC200 (an XT class machine in an Atari ST style case) about my XT-CF boards, wondering if a custom board could be built for the machine, with its physical 50mm height restriction on its two ISA slots.  The quick answer to that is no, since the CompactFlash header is too big in either orientation, but I'd already been pondering on the idea of a super-simple PCB providing a 40-pin IDE header, based on the lo-tech 8-bit ROM board, so this seemed like a good opportunity to finish the design.
A through-hole, small form factor 8-bit ISA adapter providing a 40-pin IDE header suitable for connection to a separate IDE to CompactFlash adapter (available cheaply on eBay).  By using a 40-pin header instead of a CompactFlash socket, home assembly of the device is made simple as all required components are 2.54mm pitch through-hole.
Other than the small form factor (and without any provision for a slot bracket), the PCB is a standard ISA card and can be used in any PC with an ISA slot.
New IDE Logic Implementation
Making an XT/IDE derivative in such a small PCB meant minimising the component count:
Whilst the XT-CF-lite was based closely on the original XT/IDE adapter, borrowing directly its OR and inverter gate design to provide IDE register access and IDE reset, with this new board this has been condensed into a single 74LS139.
Because of the 40-pin potentially cabled connection to the CompactFlash adapter, a buffer (74HCT245) is required, but with only 8-bit transfer mode supported (hence the CompactFlash designation), a 16-to-8-bit MUX isn't required
Any CompactFlash or microdrive device should work with this adapter, and probably ATA-2 compliant hard drives (since 8-bit transfer mode is a requirement of ATA-2).
Extended Functionality
I wanted to include as much functionality as possible, so implementing the logic for IBM PC/XT Slot-8 compatibility (developed with the CPLD based XT-CF adapters) was a goal.  Although out of space on the ISA component side, the layout could accommodate a few SMT components on the ISA solder side: these are entirely optional, but when populated provide LED drive and Slot-8 functions.
The logic required to provide slot-8 functionality is straight-forward – it's just an echo of MEMR or IOR when either the ROM or IDE ports (respectively) are selected, with an open-collector drive since other logic on the system board can also drive this signal (as I've written about before).  In this new board, this is implemented with a single 74LS33D quad NOR gate, the one spare gate being used to provide LED drive too:
LED drive requires the SMT 74LS33D populated since CompactFlash devices provide only minimal activity LED drive current, which is likely already absorbed by LEDs on the required CompactFlash to IDE adapter.
The boards are fully supported by the XTIDE Universal BIOS (from build R545), with standard 8-bit PIO transfer mode and the enhanced performance BIU Offload mode just as with the XT-CF-lite.  The DMA transfer mode of the XT-CFv3 is not however supported.
Availability
ENIG (gold plated) rev.2 PCBs are available via the shop page.
Components will also be needed from your local electronics outlet such as Farnell, Mouser or Digikey – full Bill of Materials in the wiki.
Social tagging:
XT-CF