CompactFlash Adapter for Tandy 1400 Laptops
From lo-tech.co.uk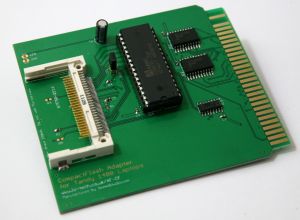 The CompactFlash Adapter for Tandy 1400 Laptops is a system specific XT-CF variant for Tandy 1400 Series Laptops.
The board is programatically identical to the XT-CF-lite and is therefore powered by the XT-IDE Universal BIOS, provided through an in-system re-programmable 32KB (addressible) flash-based ROM. Since the BIOS is only 8KB, 24KB is available for other purposes, and is byte-programmable.
To buy this and other PCBs, please visit the lo-tech shop.
Specifications
General
PCB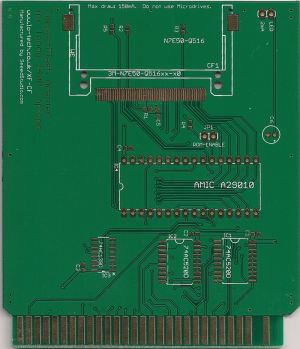 Bill of Materials
| Part | Device | Package | Qty | Farnell | Mouser |
| --- | --- | --- | --- | --- | --- |
| IC1, IC2 | 74HCT688D | SOIC-20W | 2 | 1085321 | - |
| IC3 | 74HCT139D | SOIC-16 | 1 | 9591834 | - |
| IC4 | AMIC - A29010-70F | DIP-32 | 1 | 1907092 | - |
| R1, R2, R4 | 10k Resistor | 0603 | 3 | 1469748 | - |
| R3 | Do not populate | - | - | - | - |
| R5* | 1k6 Resistor | 0603 | 1 | 2138367 | - |
| C1..5 | 0.1uF Ceramic Capacitor | 0603 | 5 | 1414610 | - |
| C6 | 10uF Electrolytic Capacitor | E2-5 | 1 | 8767084 | - |
| CF1 | 3M NE750-Q516RB-50 CompactFlash Header | - | 1 | 1267444 | - |
| IC Socket | - | DIL32 | 1 | 1654375 | 571-1-390263-2 |
| JP1, LED* | AMP - 826629-2 | 1x2 Pin Header | 2 | 3418285 | - |
*Components only needed if activity LED is required
Configuration
See Also