Tandy 1400FD
Jump to navigation
Jump to search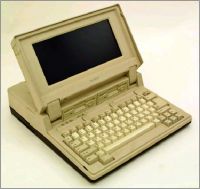 The Tandy 1400FD was a Tandy 1400 Series computer, replacing the earlier 1400LT model. The 1400FD however had a very similar specification, with it's V-20 CPU, two 720K floppy drives, and 768KB RAM. The system ran Tandy MS-DOS 3.30 and Deskmate.
The machine was made mostly by Sanyo, with a Toshiba display panel.
The 1400HD version was identical except that it was fitted with a 20MB hard disk in lieu of one of the floppy drives.
System Features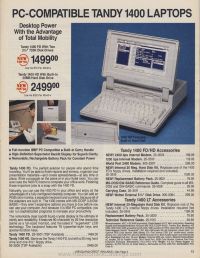 <source lang="text">
Dimensions: 3.5 X 12.5 X 14.5               Weight: 12.8 lbs.
 Processor: NEC V-20 (8088 equivalent)   CPU Speed: 8/4.77 MHz Switchable
 FCC Class: B, UL Listed                   Battery: 4.8V 4400 MAh(Nickel-Cadmium)
# of Slots: (1) Modem slot
      MTBF: N/A                        Std. Memory: 768K
   Op. Sys: MS-DOS                     Max. Memory: 768K
     Video: Backlit LCD                  Mem Cache: No cache, RAMDISK

Heat Output: N/A Power Supply: 15VDC 700 mA,4.8V 4400 MAh
Std. Ports: AC Adapter                    Keyboard: Full Size 76 Keys
            Parallel Printer-(DB-25)      Math Co.: 8087-2 Intel 8 MHz
            Serial-(DB-9)                   Floppy: (1) 720K 3.5"
            RGB Monitor-(DB-9)         Environment: Operating: 41 to 95 F
            External Disk Drive(DB-37)              Storage: -4 to 140 F
            External Keyboard(7-Pin)                Humidity: 20 to 80 %

CURRENT BIOS ROM Version: 01.08.00 Utilities Version: N/A
AC Adapter: Input: 105-135 VAC 60Hz
             Output: 12VDC 1.2A
           Polarity: Center Positive

</source>
BIOS Configuration
The BIOS configuration utility is accessed using <CTRL><ALT><INSERT>.
Accessories and Options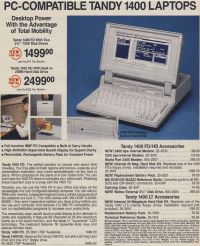 A number of accessories and options could be added:
8087-2 math coprocessor (not listed as a RadioShack part)
Internal modem boards - 2400bps (cat # 25-3524) or 1200bps (cat # 25-3510)
Internal 20MB hard disk (cat # 25-3516)
Carry case (cat # 25-3511)
Weltec External 5¼-inch floppy drive (cat # 900-2084)
The user guide noted,
CAUTION: Before installing or removing an optional board in your Tandy 1400 FD, turn off the system, and disconnect the AC adapter. Installing or removing a board with the power on can damage the option board as well as the main logic board.
If you wish to add a math coprocessor or hard disk drive kit, it must be installed by a qualified service technician.
Notes
Contrary to information in the Tandy 1400FD GW-BASIC Quick Reference Guide, only access communications channel 1 can be accessed using a BASIC program. Communications channel 2 cannot be used in BASIC.
Speaker volume can be adjusted with a variable resistor located on the right side of the computer near the power switch. Turning the resistor (using a cross-head screwdriver) clockwise increases the volume and counterclockwise decreases the volume.
Reference Material
See Also