Trs-80-ide
Jump to navigation
Jump to search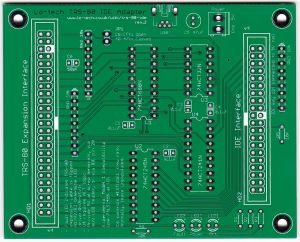 The Lo-tech TRS-80 IDE Adapter is an external IDE storage adapter for Tandy TRS-80 model 3/4/4P PCs, enabling connection of standard IDE drives (and CompactFlash cards, with an adapter). Based entirely on 7400 series logic and through-hole components, the design offers a low-cost, self-assembly storage option for these machines.
The design has experimental (i.e. untested) compatibility with the TRS-80 Model 1 and, via the Hans-01 PCB, can be used with the Model II with the replacement of one IC.
These boards can be purchased online via the TexElec Store.
Variants
Drivers
Drivers and source have been made available with the kind permission of Firebox: