IBM Portable Computer 5155
Jump to navigation
Jump to search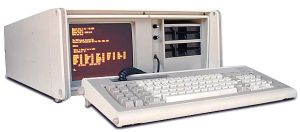 The IBM Portable Computer 5155 (launched February 1984) was IBM's answer to the Compaq Portable Computer, which was released about a year earlier. The system was essentially an all-in-one PC/XT in a luggable case with a built-in monitor and floppy drive(s).
Some thought that the machine was poorly named and that this directly led to its lack of commercial success, since its name made no reference to the (then advanced) PC/XT that it was built on.
Promotional Material
Original promotional material from IBM stated:
The IBM Portable Personal Computer 5155 Model 68 consists of a lightweight case with a carrying handle containing a built-in. 9-inch, amber composite display, one 5 1/4-inch double sided diskette drive (with space for an optional second drive), and two IBM Personal Computer attachment options (diskette adapter and colour/graphics adapter).
The unit also has a new, lightweight keyboard and a universal power supply. The system board is the same as that of the IBM Personal Computer XT with 256KB of memory that is expandable to 512Kb using the memory expansion option.
Five expansion slots are available for the connection of most IBM Personal Computer options. The system has identical function and performance characteristics to an equivalently configured IBM Personal Computer.
Specification
Typical Specification:
Expansion Slots
Since the system utilised the IBM PC/XT system board, it had the same 8 slots and 256KB RAM capacity. Because of the physical constraints of the luggable case with its 5¼-inch disk drives, only two of the slots were full-length:
Availability and Pricing
The system was launched February 1984 and produced until April 1986, costing $4,225 in the US at launch.
Reference Materials
Media Images
See Also